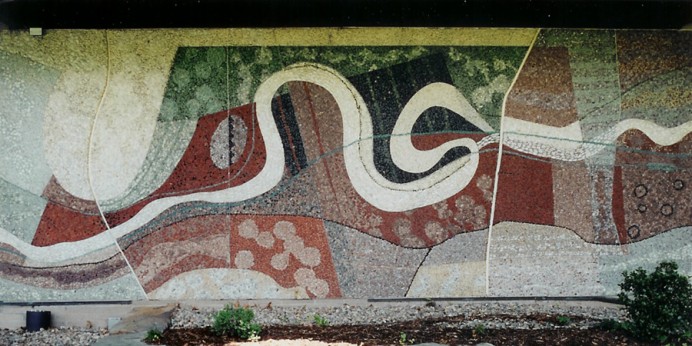 At first glance, a visitor may think that Honore Guilbeau Cooke created this mural for pure aesthetics. Upon further inspection, however, he will find that this work of art is not only pleasing to the eye, but that its shapes, lines and colors also reference the geographical pattern of the Peninsula part of the Cuyahoga River Valley as it appears on old maps and in aerial photographs.
The idea for the mural was that of Robert Bordner, the first president of the Library. He wanted to mark the building with something beautiful and unique, so he called upon Honore Guilbeau, Peninsula's most famous artist and a Library founder, to design the mural. Richard Prusinski, president of Architechtural Research Corporation in Detroit, was selected to execute the design.
Besides the river itself, represented by the dominant white band, many other features are suggested in various degrees, including the Ohio Canal, the Stumpy Basin and the Oxbow River, which is now dry. The stone quarry is also indicated, from which mill stones were shipped as far as China and Russia. The turquoise line represents the B & O Railroad, and deep lock can be seen in the grey green on the canal at the front.
Additionally, the mural covers the heart of the Peninsula Python legend. Many see the river as a symbol of the monster snake that called attention to the Peninsula area in 1944. Though this was not a specific intention of the creator, it certainly is an exciting aspect of the mural.
The mural was dedicated on September 20, 1964. Since then, Honore has created other murals throughout the nation, but Peninsula's mural remains the biggest and most precious as a creative work of art.