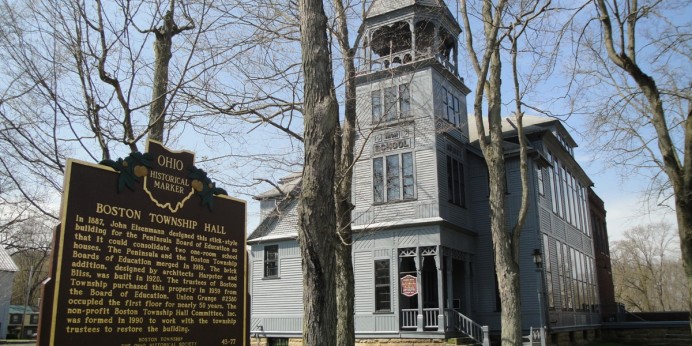 The Cuyahoga Valley Historical Museum is a branch of the Peninsula Library and Historical Society organized for the purpose of interpreting and promoting the area's history through permanent and special exhibits. The Cuyahoga Valley Historical Museum is housed on the second floor of the historic Boston Township Hall, which was built in 1887.
Location
1775 Main Street
2nd Floor
Peninsula, Ohio 44264
Hours
| | |
| --- | --- |
| Wednesday | 12-4 |
| Friday | 12-4 |
| Saturday | 12-4 |
| Sunday | 12-4 |
The museum can also be opened by special arrangement for group visits by calling 330-657-2665 or 330-657-2892.
Feature Exhibit
Bits and Pieces: Unpuzzling Our Past
This exhibit brings together a variety of our holdings which uncover famous personalities, extraordinary events, and notable places from our community's unique history within six categories. These categories include: Artists, Inventors, Events, Celebrities, Sensations, and Disasters. Some of our featured items include: major league baseball player Scotty Ingerton, the Peninsula Gold Hunt of 1945, PVC inventor Waldo Semon, the headless Civil War Monument, the Flood of 1913, local artists Walt Scott, William Sommer, and Honoré Guilbeau Cooke and the Barnum and Bailey Circus parading through the streets of Peninsula. Please feel free to stop by and view our exhibit!
Other Exhibits & Projects
Peninsula Area Stone Quarries
For many years, Peninsula's stone quarries were the life-blood of the community, providing jobs and creating commerce.  Focusing quite extensively on Deep Lock Quarry and the Swimming Quarry, this informative exhibit answers the following questions:  Where were the quarries?  Who were the quarrymen?  How did the quarries operate?  When were the quarries in operation?  Find out what products were made in the quarries and how they were shipped to market.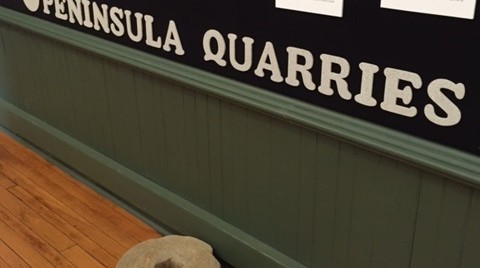 Be part of our Community Scrapbook!
Do you have a favorite photograph of local people, places, or events of any era? If so, tell us about it! Bring your document or photograph in to the Library—we'll make a copy and return the original to you. We will then post the copy of your photo on our Community Scrapbook Wall.
Ohio Memory Project
The Peninsula Library and Historical Society and The Cuyahoga Valley Historical Museum are participants in the Ohio Memory Project sponsored by the Ohio Historical Society. To view some of our images, please visit www.ohiomemory.org and search Peninsula Library and Historical Society. Ongoing.