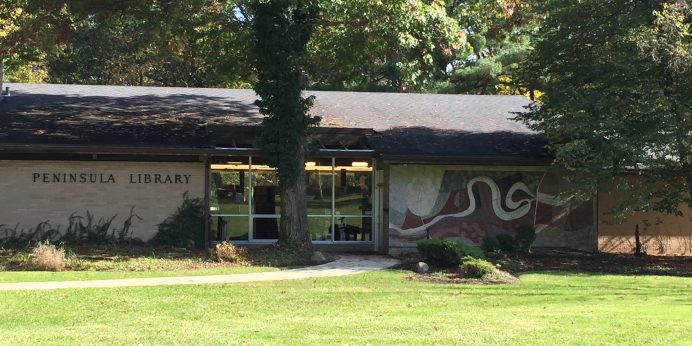 In 2018, Peninsula Library and Historical Society will be celebrating its 75th anniversay, inviting people close to the library to reflect on what has been accomplished and to wonder what the years ahead might hold. The library has been financially sound in recent history, and a majority of its budget depends on public revenue from the state and county for its operations. Trends indicate that libraries will receive smaller portions of public funds in future years, which will severely impact the Library's operating budget.
The Peninsula Library Foundation was formed in 1993 to address the long term funding issue, and since 2010 it is has provided more than $90,000 in financial support to the Library. The Peninsula Library Foundation's sole purpose is to support the Peninsula Library and Historical Society through an endowment fund. The endowment fund is a long term investment comprised of donations from people in the community. In its first full year, more than $100,000 was raised and by 2016, the total assets of the Foundation surpassed the $1 million mark because of community generosity.  Your donation to the Foundation will help to provide reliable funds for the Library through this endowment fund.
Board of Trustees
Catherine Timko, President
Mary Mraz, Vice President
Walt Herip, Secretary
Ed Andros, Treasurer
Dawn Canda
Michael Duff
Donate
Make a secure online donation to the Library Foundation today!
Give to the Peninsula Library Foundation
(clicking the button will take you to the Network For Good website in a new window)
Honor, Memorial, Celebration Contribution Form
Remember or honor someone who has touched your life with a memorial or tribute gift to the Peninsula Library Foundation. Your gift may show admiration or gratitude to someone; celebrate graduations or birthdays; or remember family members or friends who have passed away. You will receive an acknowledgement letter and we will notify the person indicated that a memorial or tribute gift has been made.  Click the link below to print the form and send in with payment.
Honor, Memorial, Celebration Form
Alternatively, you can print out our Contribution Form to accompany payment by check.
The Peninsula Library Foundation is a 501(c)(3) charitable foundation.  All gifts to the Foundation are tax exempt as permitted by law.
Leave a Legacy
In 2004, The PLF joined a national program called Leave a Legacy. This initiative is a campaign conducted by the National Committee on Planned Giving to inspire people like you to make charitable bequests. Bequests are just one type of "planned gift" – a gift that will be distributed sometime in the future – to a charity that is meaningful to you. Through Leave a Legacy, people who have made charitable bequests and other types of planned gifts share their experiences in the hope of encouraging others to give. For more informtion, please visit the Leave a Legacy web site.
Guidestar
Search Guidestar to for the up-to-date data available on non-profit organizations.  Search for Peninsula Libary Foundation to learn more about us. http://www.guidestar.org/Home.aspx
Annual Report
Click here to read our most recent annual report
Contact
Peninsula Library Foundation
PO Box 292
Peninsula OH 44264
Phone:  330-657-2291
Email:  foundation@peninsulalibrary.org